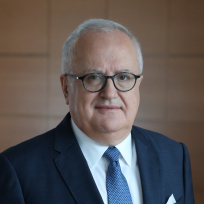 HANDJINICOLAOU George
Mr. George Handjinicolaou is Chairman, non-executive member, of the Board of Directors of Piraeus Bank, and serves as Chairman of the Board of Directors of Athens Stock Exchange (ATHEX). He is also Chairman of the Piraeus Bank Group Cultural Foundation, a non-profit foundation. Mr. Handjinicolaou has also been elected Chairman of the Board of Directors of the Hellenic Bank Association, the non-profit legal entity that represents Greek and foreign credit institutions operating in Greece.
Mr. Handjinicolaou received his PhD in Finance from the graduate school of business at New York University, where he also earned his MBA, and holds a BS degree from the Law School at the University of Athens, Greece.
His career in the financial services sector spans over 35 years, the vast majority of which was spent at global financial institutions based in London and New York.
Mr. Handjinicolaou held the position of Deputy CEO of the International Swaps and Derivatives Association (ISDA) in London for 6 years (2011-16), where he was also a member of the Board of Directors. Previously and for over 25 years, he held senior management positions in the derivatives and fixed income markets at several global financial institutions including Dresdner Kleinwort Benson, Bank of America, Merrill Lynch and UBS in London and New York, while he started his career at the World Bank in Washington, DC. Mr. Handjinicolaou has also leadership experience in Greece from his roles as CEO of TBANK and as Vice Chairman of the Greek Capital Market Commission.